SKYLINE MOTORSPORT PROFILE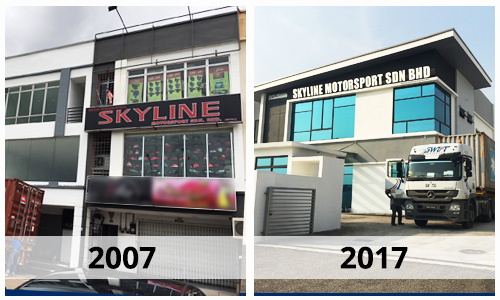 Skyline Motorsport Sdn Bhd设立于2003年。
从台湾,中国进口改装配件,
经过14年的努力,批发全马来西亚市场。
目前批发产品种类较多,
仪表,大灯,尾灯,装饰雾灯,弹簧,日行灯,其他配件等等。
Skyline Motrosport Sdn Bhd代理各种汽车改装配件在当地市场批发,欢迎有兴趣的经销商加入我们的团队。
我们很乐意与您共创辉煌。
"诚信是我们的宗旨,创新是我们的目标" 我们充满自信,不断进取,
为不断挑战和创新而努力,共创美好的未来达到顾客满意。
Skyline Motorsport Sdn Bhd. was established in 2003. We import premium grade of car accessories from Taiwan and China. After 14 years of hard work, we are now a leading supplier in supplying car accessories to Malaysia market.
We provide large variety of car accessories though wholesaling, such as car meters, headlights, taillights, decorative fog lights, springs, LED Day Lights etc, etc for different car brands and models.
Skyline Motorsport Sdn. Bhd. welcome all who are in the car accessories industries join our dedicated team. We will be working together with you and achieve higher sales and towards excellence.
"INTEGRITY is our main objective, INNOVATION is our goal."